MEDIA CONTENT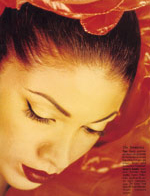 We provide content (text and visuals) to leading newspapers, magazines and web portals related to the fashion, lifestyle and cosmetic sectors.

We produce fashion spreads, beauty features and visuals for various Indian and International magazines and newspapers.

Our visuals appear in publications of media giants like The Hindustan Times, Times Of India, India Today Group and Magna Publications, Conde Nast to name a few.

We also style, coordinate and put together model portfolios, TV spots, TV shows, commercials, promotions and streams for the electronic media.

Some of the channels include Star, Zee, Headlines Today, BBC, Doordarshan, MTV, Channel V etc.

We provide co-ordination and production services which includes talent co-ordination, locations,
permissions, photography, makeup, hair, styling, clothes and accessories. FEEDBACK FORM.